Interview with Ester Lopez
Spotlight On Ester Lopez
Interview with Ester Lopez
Affaire de Coeur's April Calendar Girl
Ester Lopez writes sci-fi and paranormal adventure romance. She lives in the Smokies with her husband, two dogs, Charlie and Ellie, and two mini horses, Pepper and Bucky.
1.When you write, do you outline first, or are you a pantser?
First, I come up with a character name for my main characters, then I go through my book, "Heroes & Heroines" by Tami D. Cowden, Caro LaFever, and Sue Viders to get a handle on their personalities. I also work on a characterization sheet which helps me learn more about them. Then, I get out my GMC book (Goal, Motivation, & Conflict) by Debra Dixon, and find out what they are really after. Once I get a handle on my characters, they start telling me their stories and I write it down as fast as I can.
What type of characters do you like to create?
The characters must need something and someone or something is keeping them from getting it. Most of my male characters have been Alpha males except one. My female characters have been Alphas as well, so there will be clashes in personalities.
Tell us about your new book or series.
My latest book in The Vaedra Chronicles Series is "Aftermath." After the 'black government' has been 'outed' and we have a chance to share technology with another alien race, the greys aren't happy with the situation and plan an attack against Earth. Things become chaotic on Earth, but our hero and heroine are on another planet. When they realize what could be happening on Earth, they head back to Earth into an intergalactic war.
What is your favorite passages/scenes in your current release or WIP?
I haven't got a favorite one yet since I'm still writing it.
What motivates you for a perfect writing day?
When no one else is around, I don't have to cook or run errands, I can sit down and let my imagination run wild.
How/where do you get your plot ideas?
Sometimes they come from the precious story, sometimes the news, songs, or listening to other people, but mostly from my characters themselves.
Did you need to do research for the story? And what kind of research did you need to do?
Yes, I've done research on space travel, conspiracy theories, NASA, Area 51, and anything else I could get my hands on.
What is your favorite thing about being an author?
Pretending I'm someone else for a while and get into that person's head.
Is there a genre that you've been wanting to try writing?
I sort of blend my genres. My sci-fi has had some para-military people (like police or law enforcement-type people) and my paranormal has had cops in them. But what I will eventually write is a time travel.
How many books do you currently have out on the market and what genres do they fall into?
I have six books out. Three are in the sci-fi genre in The Vaedra Chronicles Series and two are in the Angel Chronicles Series. The sixth book is a background to The Vaedra Chronicles and I'll be adding to it this year.
Will you be attending any book signings or conventions?
Yes.
February - Penned Charleston in Charleston, SC Feb 29th
March - The Lexington Legendary Book Bash in Lexington, KY March 21st.
April - Roanoke Author Invasion, April 4th in Roanoke, VA.
A Weekend With the Authors is April 17-19th in Nashville, TN
Book Obsessed Babes on April 24-26th in St. Augustine, FL
May - Royal Book Bash in the Carolinas on May 16th in Florence, SC
July 31-Aug 2nd, Romance in the Carolinas in Winston Salem, NC
October - 'Cruisin the Pages' on a cruise from the 12th-17th. It should be fun.
Pass on some words of wisdom, please, to aspiring authors.
Never give up! Keep writing, no matter what. Keep a positive attitude and believe that whatever you set your mind to, you can achieve it.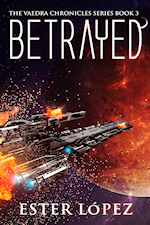 Please give us the following contact information:
Personal web page www.esterlopez.com
Twitter www.twitter.com/esterlopez1
Facebook www.facebook.com/EsterLopezAuthor