The Latest Reviews from Affaire de Coeur
***Great savings!***

We accept checks
from US banks.
Subcription Mail-In Order Form

May/June 2023 Reviews

Contemporary

Seven Rules for Breaking Hearts

Historical

A Dangerous Land by Marisa Jones

Paranormal

The Tale of the Young Witch by Joseph Minart

Titanian Warrior by Victoria Saccenti

Erotica

Jake: Cat in a Tree by Stella Leo

Mysteries

Eyes on the Road by Karen C Whalen

Fire With Fire

Mirabelle's Shadow by Susannah Marren

Booty


2030: Last Call for Humanity by R Scott Reath

The Eleventh Grieve by Garth Hallberg

Epoch by Kat Elle

Full Circle by Michael Tate

The General's Son by Charlotte Goodwin

A Good Family

Happy Bastards by Alex Monaco

A House With Good Bones

Legend of the Solstice by Lauren Evers

Sustainable Web Design in 20 Lessons by Michael Andersen

The Build Up

Play by My Rules

The Scourge Between Stars

Children

I Love You

Young Adult

Powerless by Jacqueline Pretty

One addition is

When Oceans Rise

Audios:

Curled Up With an Earl

NerdCrush

The Wicked Game

March/April 2023 Reviews

Contemporary

A Guide to Being Just Friends by Sophie Sullivan 4 stars

Rosewater by Liv Little 3 stars

The Spite House by Johnny Compton 4 stars

Historical:

A Wicked Game (Ruthless Rivals #3) by Kate Bateman 4.5 stars

Paranormal:

Lone Women by Victor LaValle 4.5 stars

The Vampire Billionaire's Secret Baby by Sharon Buchbinder 4.5 stars

Twilight Destiny by Amanda Ashley 4.5 stars

Erotica:

Alexander by Harlowe Savage 3 stars

Broken Chains by Karina Kantas 5 stars

Audio

The Many Dates of Indigo by Amber D. Samuel 3.5 stars

The Plus One (A Brush with Love #3) by Mazey Eddings 5 stars

Twice a Quinceanera by Yamile Saied Méndez 5 stars

Booty

Ghostly Command by R. K. O'Brien 3 stars

Kill Your Darlings by L.E. Harper 4 stars

Knock-out Beauty and Other Afflictions by Marina Rubin 3 stars

Lifeline to a Soul Interior by John K McLaughlin 4 stars

Pinata by Leopoldo Gout

The Rebirth by V.P. Evans 4 stars

Rebirth of the Gangster by CJ Standal 4 stars

Writing Professional Emails by Michelle Swann 4.5 stars




Spotlight On

Ms March Candace Colt




Ms April Ester Lopez

Dear Qwerty: How to Handle a Bad Review

Book Obsessed Babe Author Signing Event

Save Your Money on a Healthy Lifestyle




Reviews Reviews and More Reviews!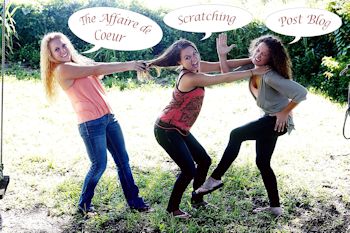 ... ...