Leslie Kelly ~~ 4 1/2 and 5 Star Reviews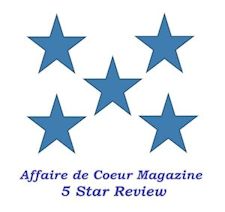 Leslie Kelly
Harlequin Blaze #795
Mass Market
978‑0373797998
*****
Dr. Lindsey Smith has gained notoriety in popular culture because of her work with sexual disorders. She discovered that women have the ability to think themselves to orgasm and coined the term "thinkgasm" to describe it. Her work went viral, and internet memes and a Jeopardy! question have now been devoted to her work. Her employers don't like it and ask her to take a leave of absence. Now she's on her way to tiny Wild Boar Island to be a substitute science teacher and to hide out from the media.
Make Santori first sees Lindsey on the ferry as they both suffer seasickness on the journey. He used to be a Chicago cop, and he took the job as Wild Boar's Police Chief for some peace and quiet. The small‑town setting is an awkward fit at times for him, and Lindsey brings some excitement. As he helps her move into her temporary home, he discovers a box of sex toys and sexy how‑to books, and the erotic tension explodes. But as the two newest people in town, the locals are pairing them off, and they don't want to draw too much attention to themselves.
Leslie Kelly's latest continues her stories of the Santori family with this tale, which is notable in its erotic frankness as befits a title in the "Unrated!" series. The characters are empathetic and winningly portrayed, and their chemistry is blisteringly hot. Readers will not be able to turn the pages fast enough.
Heather Nordahl Files
A Soldier's Christmas
Leslie Kelly, Joanne Rock, Karen Foley
Harlequin Blaze #776
Mass Market
978 0373797806
****1/2


Three sexy soldiers woo their matches in this tasty holiday treat.
Ellie Blake has always felt a connection to Rafe Santori. First he pushed her away. Then he pursued her, only to discover she was engaged. Now he is home from military duty overseas, and they meet in the airport on the night of a blizzard. They both need to get from New York to Chicago; so they share a vehicle and a drive home. Now Ellie needs to tell Rafe that she never got married. Leslie Kelly pens a poignant and passionate reunion tale with "I'll Be Home for Christmas" (****1/2).
Ari Demakis is waiting for Dylan Rivera to come back to Las Vegas because she think it's time for their quickie marriage to be dissolved. She loves him, but he shuts her out and barely communicates when he's on assignment with the military. Will they become single for Christmas? Joanne Rock writes a thought provoking tale with "Presents Under the Tree" (****), but the end is a bit abrupt.
When Aiden Cross wakes up, he discovers that he has dengue fever and will be sent home from Africa. He must take time to recover before he can rejoin his men. He does not want to leave, but at least he has Lily Munroe with him. Lily does not want to get involved with Aiden, but their attraction is hard to resist. Karen Foley pens "If Only in My Dreams" (****1/2), where Aiden works hard to convince Lily to take a chance on love.
Heather Nordahl Files
Leslie Kelly
Harlequin Blaze #767
Mass Market
978‑0373797714
****1/2
Madison Reid has been pretending to be the fiancée of her childhood best friend, a movie star who is concealing his true sexual orientation from the world. Now he decides to end the engagement, planning to say he cheated on her. But Madison won't let him do that for fear of affecting his popularity. Instead, she will be the cheater. She thinks she'll face a short flurry of negative attention, and then she can get on with her life. But the stream of tabloid vitriol is so intense that she needs to get away, so she escapes to Costa Rica.
Leo Santori should be on his honeymoon. Instead, having dumped his cheating spouse‑to‑be, he's on his honeymoon trip solo. He is in his room at the swanky resort contemplating a skinny‑dip in his private pool when he discovers someone else in his room! There was a mix‑up at the front desk, but Leo and Madison don't mind, as the sparks fly immediately. But what would Leo think if he knew that the entire world thinks Madison cheated?
Leslie Kelly crafts a perfect sequel to Waking Up to You while also creating a new branch of the Santori family tree for readers to drool over. The tale can stand alone, and the tropical splendor of Costa Rica and the sizzling chemistry between hero and heroine make this an enjoyable way to while away an evening.
Heather Nordahl Files
Waking Up to You

Leslie Kelly

Harlequin Blaze #747

Mass Market

978‑0373797516

****1/2

Candace Reid has been friends with Thomas Shane forever. He's an action movie star who fears that his career will falter if fans discover he's gay. So he asks Candace to marry him and be his beard for five years, when he may be able to safely come out of the closet. She is single and loves her friend so she agrees, if in somewhat reluctant fashion. To make up for the dry years ahead, she intends to go be a sex tourist in Paris, where she can find a lusty lover who can't speak English. Her grandfather's sudden hospitalization forces a change of plans.
Oliver McKean lives in the grounds keeper's cottage at Buddy Frye's vineyard. After Buddy suffers a fall, Oliver is on alert when he sees lights in the house. When he comes across Candace in the kitchen, a hilarious scene of thrown pots and pans eventually turns to an intense and impossible--attraction.

Leslie Kelly's latest takes the theme of Lady Chatterley's Lover and twists it into a more romantic shape. Her characters are appealing, especially the hero, and the intense love scenes

will burn themselves into readers' brains.

Heather Nordahl Files
Leslie Kelly
Harlequin Blaze #689
Mass Market
978‑0373796939
****1/2
Mimi Burdette works for her father at the family grocery chain. She wants to succeed him someday as CEO, but her father doesn't want to pass the business to a woman, an archaic attitude that drives her mad. She is dating a man her father set her up with, hoping to please him in some small way, but there is no spark. However, she finds a forest fire full of sparks with her new neighbor.
Xander McKinley has just moved to the area, hoping to make a new life now that both of his parents have died. His first encounter with Mimi--falling out of her closet at her feet when she's nearly naked--gets them both hot. But Mimi is all wrong for him. He's working‑class and has felt the pain of a lack of money. She is a wealthy heiress with a trust fund and a boyfriend. The journey will have its bumps, but their mischievous landlady is doing her best to get them together.
Leslie Kelly's latest has some marvelous characters, both minor and major, and her heroine has some truly awesome dreams. Readers can't help but fall in love with this book as they navigate thorny paths with the characters.
Heather Nordahl Files
.
...
Leslie Kelly
Harlequin Blaze #654
Mass Market
978‑0373796588
****1/2
Lucy Fleming thought she would be a high‑powered fashion photographer, but her career took an unexpected path. Now here she is, taking pictures of adorable moppets in Santa's lap. Everything she once held in contempt is now part of her future. She's even back home in Chicago, something else she never would have expected. But the biggest surprise is seeing Ross Marshall again.
Six years ago Ross was the surprise fling that helped her through Christmas, a tough season for her since her parents died during the holiday season. Then he was gone, and he stopped calling. It's hard to say why Ross didn't call, but now that he sees her again he knows he cannot allow her to slip away again.
Leslie Kelly's latest alternates chapters between now and six years ago, and this innovative format allows both the current and past storylines to unfold gradually and naturally. The result is an extremely well‑crafted reunion tale that also shows how they got together in the first place.
Heather Nordahl Files
...
Leslie Kelly
Harlequin Blaze #616
Mass Market
978‑0373796205
****1/2
.
Marissa Marshall has finally decided to join the work force after many years as a student. Freshly armed with her doctorate in psychology, she is at the U.S. Naval Academy to interview for a part‑time guest lecture position at the Academy, but years out of the work force have left their mark. She owns no business clothes that fit, and her borrowed skirt is too tight. Worse yet, her pantyhose sport a huge run, so to avoid panty lines, she removes them‑‑and her panties‑‑altogether. Then she realizes someone was a witness to her striptease.
Lieutenant Commander Danny Wilkes sees the hot teacher‑type parking in the employee lot and just wants to save her a hefty towing charge, but there's clearly some kind of miscommunication here. They get past it, and some car repair leads to lunch, then a night of passion on his boat. But when he loses his cell phone, he loses the ability to contact Marissa. This simple accident creates a big roadblock to this relationship.
Marissa makes an unfortunate first impression, but recovers nicely. Danny fares much better in an excellent romance that gets better as the story progresses. The eyelash‑singing love scenes are a special highlight, though readers might need a fan and an icy drink.
.
Heather Nordahl Files
Leslie Kelly
Harlequin Blaze #567
Mass Market
978‑0373795710
****1/2
Amanda and Reese (from Play with Me) are getting married. As friends and family gather, new love blooms for three lucky couples, courtesy of Leslie Kelly's talented pen.
In "First Kiss," sister of the groom Bonnie Campbell has a passion for environmental causes, but not so much luck finding a man to spark passion with. Then she learns that a hotel mix‑up has a movie star staying in the honeymoon suite, evicting the newlyweds. She has an ugly history with Drew Ericson, but she soon discovers that her distaste for him is based on misconceptions. This little tale is a well‑crafted gem that will make you smile and shiver.
In "Halfway There," maid of honor Jocelyn "Jazz" Wilkes is looking for a hookup‑‑or at least that's what she tells herself. She and co-worker Blake Marshall have had feelings for each other for a long time, but neither will admit it--until now. She propositions him, but he refuses her. He wants to wait until she can give more than her body, and she doesn't know if she can ever do that. Readers will love this sweet and spicy tale.
In "Last Call," Abby Bauer has been having doubts about getting married, which becomes obvious to all when instead of catching the bouquet when it's tossed her way, she swats it away with all her might. Her fiancé Keith Manning and both her parents and his watch her do this, and afterward she breaks up with Keith. It will be up to him to find a way to show Abby that he's the passionate man she wants. This tale of erotic reconciliation may just be the sweetest of all these tales.
Heather Nordahl Files
...
More Blazing Bedtime Stories Anthology
Julie Leto and Leslie Kelly
Harlequin Blaze #501 Mass Market
978-0373795055
****+

This month Blaze offers another anthology of erotically charged fairy tales.
Julie Leto gifts us with a fun fairy tale in "Into the Woods." Tatiana Starlingham has been a fairy godmother for centuries. After suffering such a lengthy servitude, she wants to be free at last. To earn that freedom, she must enter the human world and grant the wish of the first woman she meets-- all while being merely human herself. Her target's wish is to get her break on Broadway. She has the talent, but she also has an overprotective-- and hot-- older brother, Jack St. Cloud. Tatiana will have her work cut out for her, because while Jack is more than willing to get in bed with her, he has no intention of letting his sister be destroyed by stardom.
Leslie Kelly follows this tale with "Once Upon a Mattress," a fun tale of her own. Lucas Wolf has been hired to find the lost princess of Riverdale. He finds Penny Mayfair quickly, but convincing her to come with him without telling her where they're going and why is another story. Since her father died three years ago, Penny has been trying to find her family and a place where she belongs. This gorgeous man with bizarrely quick-growing hair may be hot, but she will go nowhere without feeling safe. He finally tells her why he's come for her, and she won't believe the story he tells.
This slightly connected pair of tales are great fun. Readers will adore this melding of fairy tale, modern life and hot sex!
Heather Nordahl Files
...
...
,,,
Heated Rush
Leslie Kelly
Harlequin Blaze #408 Mass Market
978-0373794126
****+

Annie Davis is still stinging from the embarrassment of accidentally
dating a married man. She never told her rather overprotective parents about
it, and they think she's still dating him. Their thirty-fifth anniversary is
coming soon, and she needs to bring a date to the party. So she takes her
checkbook to a charity bachelor auction, and buys herself a date with her
hard-earned cash. She expects a hardworking, all-American paramedic, but she
gets a gorgeous, cosmopolitan Irishman named Sean Murphy.
A misprint in the charity auction program lists Sean's information
incorrectly. He's actually an international businessman with a history as a
gigolo. He's ashamed of his past, but is certainly up for an entertaining
weekend with Annie, even when she tells him he's coming home to the farm to
meet her family! But while they get closer physically, the deep scars from
Sean's past make it unlikely they'll be together after the weekend.
This companion to last month's Slow Hands easily stands alone,
though both books should not be missed. The depth of characters, especially
the hero, make this tale well worth the price of admission.

Heather Nordahl Files
...
Click on the book titles to purchase Leslie Kelly's books from Amazon
Click on the titles to purchase Leslie's books from Amazon.


...13 ...