Lucy Monroe~~4 and 5 Star Reviews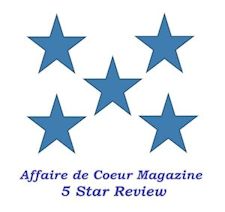 An Heiress for His Empire
Lucy Monroe
Harlequin Presents #3274
Mass Market
978 0373132805
*****


Madison Archer has had a reputation as an heiress with a tendency towards reckless behavior, but now a friend has turned on her, selling a story to the tabloids that describes her as having kinky sexual proclivities. It's all lies, but her powerful father is in damage control mode. He springs his idea on her without warning: She is to marry one of four handpicked men.
Viktor Beck intends to make sure that he is her choice. His ambition is to run her father's company one day, and this will cement that goal. But he also wants this vibrant redhead in his life and his bed. They've always had chemistry, and now she's old enough to explore that chemistry. He would be surprised to know that she is a virgin.
Lucy Monroe launches her "Ruthless Russians" duet with this compulsively readable tale. Madison is a glorious heroine—spirited, smart, and determined, but also tough enough to hold her own even against her father, a formidable opponent. Vik, an intriguing character in his own right and far more than a standard alpha hero, has marvelous chemistry with her, and together they make magic on the pages. This is a classic romance beautifully updated for the new millennium.
Heather Nordahl Files
Lucy Monroe
Brava
Trade Paperback
978‑0758242034
*****
Rachel Gannon knew she could only hold out for so long before the excruciating pain would break her. But being a highly trained operative for TGP, The Goddard Project, a top secret agency that did the things the United States government couldn't afford to let people know they were doing, Rachel knew the Moroccans torturing her with the car battery did not have the means to make her talk. Still, it hurt like hell, and she was holding onto the hope that TGP never left an agent behind and someone was coming for her soon. The Moroccans had nothing to break her with because she had nothing and no one back home that she cared about or who cared about her. Her parents were dead from a car accident; her grandmother was in a home with Alzheimer's and no longer knew who she was; her baby sister had committed suicide, and the only person she had ever loved, Kadin Marks, had walked away from their love to join the Marine Corps. So Rachel became a DEA agent and ended up working for TGP. That was her life.
When Kadin heard that Rachel had been captured and needed extraction, he informed his commander that no one was going to do it but him and his team. He couldn't believe his Rachel, his sweet, innocent Rachel whom he left behind because he didn't want to taint her with the things he had done, was an undercover agent for TGP. The reason he had left her was to protect her from just this sort of sordid reality and the fact that the man she loved had lots of blood on his hands. After all, he had been a Marine Corps Special Operations assassin and had earned the nickname "Trigger" because of his unerring accuracy. But now that she was screaming his name in her pain, that accuracy was going to be put to good use because absolutely nothing and no one was going to stop Kadin from getting her out of there.
Lucy Monroe's latest installment of "The Goddard Project" series is a topflight spy novel set in modern times in the Middle East. Her accuracy in portraying the rescue teams and undercover operations while dealing with the unrequited love/hate relationship of the protagonists is brilliant. Some characters from her previous TGP novels are brought in, but they only enhance the story. Heatseeker will keep you on the edge of your seat from the first page to the last.
Lani Roberts
Dragon's Moon (A Children of the Moon Novel)
Lucy Monroe
Berkley Mass Market
978-0425246627
****


Ciara is a wolf shifter. Her brother believed that raven shifters stole the wolves' sacred stone. Galen was searching for the stone when he scented ravens. Telling Ciara to hide, he began tracking the shifters. She followed and saw him preparing to kill the young ravens. Suddenly a dragon appeared overhead and incinerated Galen. With her family dead, Ciara went to live with the Sinclair pack.
Eirik is the dragon prince of the raven shifters. He's decided that their survival requires joining forces with the wolf shifters, so he and his subjects join the Sinclair pack. Ciara was on top of a tower when she ¿rst saw Eirik in his human form. Startled, she lost her balance. One minute she was falling to her death, the next she was in the arms of the dragon who killed her brother. That's when she fainted.
A seer arrives from another pack and says that Ciara must return the stone to the wolves. Eirik has realized that Ciara is his mate and insists on accompanying her. During the journey Ciara begins to return Eirik's love. They must locate the stone before it's found by rebel wolves.
This is a continuation of a series. While it can be read alone, it would be less confusing if one has already read the previous stories. It's a very good book.
Sheila Griffin



Close Quarters
Lucy Monroe
Brava
Trade Paperback
978 0758242013
*****


Roman Chernichenko was not happy with his new assignment. As the top agent in the highly classified black ops unit Atrati, he was used to undercover work in dangerous places that most people had never heard of. His job was to keep government secrets secret, no matter what it took to achieve that end. Now he was being told he was to be the bodyguard to a State Department accountant who was going to Zimbabwe to do an audit on the diamond mines. They were to stay at the base camp of Sympa Med, a medical relief camp staffed by volunteer doctors and EMTs, which happened to be near the mines. That was the cover story.
The real mission was to go in with the State Department bean counter, who was actually a TGP agent being sent to discern who was selling top military secrets to enemy African nations (and report any human trafficking violations), and Roman's team was there to assassinate the traitor. The only problem with the plan was that their target was Tanya Ruston, a do gooder if there ever was one, and Roman's sister was married to Tanya's brother.
Tanya Ruston was finally doing what she had always wanted to do with her life. After college, much to the disappointment of her parents, she joined the Peace Corps with her fiancé. After they returned home from Africa and her fiancé decided she wouldn't fit in with his grand plans for his future, she took EMT training and returned to Africa--mostly to forget the hurt and humiliation of being dumped. But she truly loved helping others and being part of a medical clinic that traveled from village to village was a perfect fit. Unfortunately, neither her parents nor her stateside friends understood her passion and zeal to help. The only person she had ever met whom she felt understood her was the bride's brother, Roman, whom she had met at the wedding.
Lucy Monroe's latest Goddard Project adventure is outstanding in every way. She has penned an adventure story, full of intrigue with modern day, very real problems, and, of course, lots of romance. The secondary romance also has tremendous appeal, and the storyline is excellent. The heroine is just as heroic as the hero, and Ms. Monroe really did her research on the many problems facing Africa. This book will make you laugh and cry at the same time. Brava, Ms. Monroe!
Lani Roberts


Click on the titles to purchase Lucy's books from Amazon.
Twitter with Affaire de Coeur



...24 ...