Amelia Grey ~~ 4 1/2 and 5 Star Reviews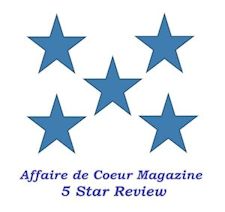 Amelia Grey
St. Martin's
Trade Paperback
978-1250042200
*****
Bray Drakestone was in deep trouble. The whole ton was laying bets on whether he would honor a young man's dying wish. Nathan Prim had suddenly become Viscount Wayebury upon the death of his father. Up until he had inherited the title and wealth that went along with it, Nathan had never been to the city. Then he traveled to London, joined the famous Heirs' Club and became as wild and reckless as the rest of the rakes of the ton. One fateful foggy night, he challenged London's most notorious womanizing duke, Bray Drakestone, to a carriage race and, subsequently, lost the bet… and his life. With his dying breath, he made the duke promise to marry the oldest of his sisters, Louisa. Bray had no intention of marrying anybody, but what was he supposed to do about the honor promise he had made? He felt guilty enough that he had even let the inexperienced, drunk young man talk him into the race! So, after two years of ton speculation and betting and Bray trying to forget his guilt, he decided the least he could do was call upon the young lady in question.
Louisa Prim had her hands full. She had four younger sisters to care for, was in London, supposedly for the Season, and just discovered they were alone and broke. She had gone from being a vicar's daughter in the country, happy and content, to being a viscount's daughter, her father suddenly passing, then her brother inheriting and dying. The girls' guardianship (and the title) had then passed onto an uncle they had never met and, after travelling to London to meet him and prepare for the Season, she discovered he had left the country with all the money and the servants, except for a housekeeper! She was through with men, including the notorious duke that her brother had foolishly tried to make marry her. She was having none of it and the male species and London could go to the Devil!
Amelia Grey has outdone herself with the latest of her "The Heirs Club of Scoundrels" series. Bray is a totally self-centered, but lovable, rake who is an only child thrust into the middle of a household of five unwed females with no parents or guardian. The confusion he suffers while trying to deal with the young ladies is worth the price of the book alone! Louisa is a strong, self-sufficient young lady that knows nothing about the ton and all their rules and doesn't care. The two are a perfect match and watching them navigate the sticky waters of love while dealing with four lively younger siblings is pure delight. This is one book that you won't want to put down.
Lani Roberts
Amelia Grey
Sourcebooks Mass Market
ISBN 978-1402217678
****+
Lucien Trent Blakewell, Duke of Blakewell, was busy sorting through his pile of ledgers when Miss Henrietta Tweed entered his like, threatening him with her belief that she has jinxed all of her previous guardians and he was the last on the long list. Blakewell had no desire to be saddled with a guardian so close to being put on the shelf.
Henrietta Tweed felt that the unfortunate curse of death by her five previous guardians was a curse she could not avoid. She attempted to convince the duke to relinquish his guardianship, not only to protect him, but more to allow her control of her own money and finances. However, he would have no part in allowing a mere female to make such dire and important decision concerning her finances and future.
The switches between very modern and contemporary writing style and inconsistent narration, first and third person, made the reading a bit bumpy and distracting. Ms. Grey has a unique and gifted imagination, which is what makes her heart-warming and delicious romances a must read.
Lauren Calder
Click on the titles to purchase from Amazon.
...21 ...