Kerrelyn Sparks ~ 4 1/2 and 5 Star Reviews
Crouching Tiger, Forbidden Vampire (Love at Stake)
Kerrelyn Sparks
Avon
Mass Market
978‑0062107770
****1/2
Russell Hankelburg works in the shadows. He is determined to kill the vampire, Master Han, and he means to take his revenge alone because of the havoc Master Han wrought in his life. Just when he thinks he can take the kill shot, Russell is infuriated to discover someone else is on the attack, which allows Han to teleport away from the field. To his surprise, his fellow fighter is a woman.
Tiger shifter Jia's family was slaughtered by Han when she was just a child, and she has lived for revenge since. She does not want a vampire to take her vengeance away from her, but he thwarts her at every turn. He works to keep her off the hunt because of her gender and her status as a princess, but once he realizes she will not give up, he reluctantly joins forces with her.
Kerrelyn Sparks sheds light on mysterious Russell in this finale of the "Love at Stake" series. The sexual tension between him and Jia is strong, and while one scene might make readers uncomfortable, Ms. Sparks makes it work. Characters from tales throughout the series make appearances from cameos to supporting roles, which will delight fans.
Heather Nordahl Files

How to Seduce a Vampire (Without Really Trying)
Kerrelyn Sparks
Avon
Mass Market
978‑0062107763
****1/2
Zoltan Czakvar has been looking for the owner of a uniquely designed arrow since 1241, the year his father was killed with that arrow. Now he finally has a lead on the arrow makers, but help is frustratingly hard to come by. His search takes him to Tibet and the mysterious valley of Beyul‑La. When he finally finds the makers of the arrows, one warrior does him some serious damage... and then he discovers this warrior is a woman.
Neona has lived for a very long time in Beyul‑La. Her mother is the queen, and no men are allowed here while this rapidly dwindling group of women do their sacred protective duty. She wants to use Zoltan for his seed, as their band needs mare daughters, and Neona wants to be a mother. She has no idea that as Zoltan is a vampire, his seed is dead. But soon she does not want to conceive, because once that happens Zoltan will be killed.
Kerrelyn Sparks delightfully expands her Love at Stake universe here with this marvelous title. The tale stands alone, but readers will want to read earlier books in the series once they read this one. The tale does end with unfinished threads, leaving this reader hoping that the next story comes out soon!
Heather Nordahl Files
The Vampire with the Dragon Tattoo
Kerrelyn Sparks
Avon
Mass Market
978‑0062107732
****1/2

Dougal Kincaid lost the woman he loved three hundred years ago. He feels he let her down but still looks for her. Then a brilliant young scientist, Leah Chin, comes to work at Romatech Industries, and his heart comes to life immediately. Could she be his long lost Li Lei?
Leah is the youngest child in a family of geniuses. She is considered somewhat of a failure because she graduated college at the "late" age of twenty. Discovering that she is working for vampires strikes fear in her heart, but something about Dougal helps to calm that fear. Some mortal men have been changed by a demon to have extraordinary powers, and it's Leah's job to make them normal humans again. So Leah and Dougal cannot simply concentrate on falling in love because evil vampires and a scary demon--not to mention a colorful cast of friendly vampires, shifters, and humans--will keep them very busy.
Kerrelyn Sparks' latest is part of the long‑running "Love at Stake" series, but stands alone surprisingly well. Dougal is a wonderful, sensitive hero who should move most readers, and his heroine is quite appealing as well. This series entry is fairly serious, but Sparks' trademark humor is sprinkled throughout.
Heather Nordahl Files
Kerrelyn Sparks
Avon
Mass Market
978‑0062107718
****1/2
Howard Barr is the bear shifter who works security for Dragon Nest Academy. But this rather laid‑back guy has a dark past, and that past has him on leave from work for much longer than expected. Many years ago, wolf shifter Rhett Bleddyn murdered Howard's girlfriend, then was assumed dead himself. Howard was blamed for his death. Now Rhett is back from the dead, and Howard wants him ruined.
Multiple emergencies require Howard to come back to work, and Shanna Dragonesti has an ulterior motive to have him back. She's learned that Howard has a huge crush on TV home renovator Elsa Bjornberg and has arranged for them to meet. How could she know that Howard and Elsa's families share a curse that could keep them apart forever?
Kerrelyn Sparks' latest "Love at Stake" title stands alone, but series fans will be delighted to read long‑standing secondary character Howard's story. Ms. Sparks blends humor into the mix with a generous hand, as well as passion, action and drama. Readers should not miss this tale.
Heather Nordahl Files
Kerrelyn Sparks
Avon
Mass Market
978‑0061958052
****1/2
Gregori Holstein is a relatively young vampire and has never drunk blood from a human, having been changed after synthetic blood was invented. As a "bottle‑fed" vampire, he has long endured good‑natured teasing from older vampires of his acquaintance. But now his "harmless" reputation, though galling, can help his people. A YouTube video proving the existence of vampires has humans in a panic. Now Gregori is meeting with the President to find out if the government is willing to help them keep their secret.
Abby Tucker is the President's daughter. Content to stay out of the spotlight and use her learning to seek ways to help her ill mother, she's sure her sister Madison is crazy to think that vampires are meeting with her father. Then she meets Gregori and realizes Madison is right. If they get along and he is deemed safe, he will teleport with her to China in search of rare herbs that may help her mother get well. Although she knows he will not physically harm her, finding him so appealing when he's so undead frightens her.
Kerrelyn Sparks' "Love at Stake" series is one of the most consistently entertaining series around. Those who enjoy their paranormal romances with a comedic touch should not miss this tale, and though it stands alone, you're definitely going to want to read them all.
Heather Nordahl Files
Kerrelyn Sparks
Avon
Mass Market
978‑0061958045
****1/2
Connor is a good Vampire. He and his fellow Vamps drink bottled blood and protect humans. They have fought the Malcontents for centuries. These evil vampires kill humans when they feed. There's a report that the Malcontents' leader is back in the U.S. The Vamps split up to check out his favorite hunting grounds.
Connor teleports to Mount Rushmore and finds a man torturing a woman. When Connor rushes to her aid, a violent wind tosses him aside. When he regains consciousness, the man is gone and the woman is unconscious. Connor teleports her to Vamp headquarters where Shanna, the human wife of Connor's boss Roman, touches the woman and collapses.
Roman demands that Connor remove the woman immediately. She regains consciousness and tells Connor that she is Marielle, an Angel of Death who helps souls on their way to Heaven. But Marielle refused to take the souls of children, so has been stripped of her powers.
At first, all Marielle wants is to return to Heaven. But as time passes, she falls in love with Connor. He returns her feeling but feels unworthy of her love, so decides to help her regain her angel status, whether she wants it or not.
This is a continuation of a series that can be read alone. While it is not as good as other books in the series, it's still a very good book.
Sheila Griffin
....
...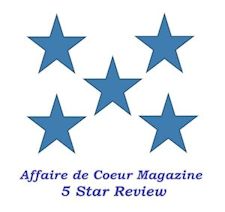 Eat Prey Love (Love at Stake)
Kerrelyn Sparks
Avon
Mass Market
978‑0061958038
*****
Caitlyn hasn't seen her sister Shanna since they were just kids. But recently they've reconnected. After years apart, Caitlyn is on her way to Shanna's for a party. While there, Caitlyn meets an incredibly sexy man and is captivated.
Carlos' village was destroyed. As far as anyone knows, he's the last adult were panther in existence. Carlos refuses to accept the extinction of his species. He will find a pureblood mate. Nothing will stop him. Then he meets Caitlyn. Caitlyn is stunned to discover the existence of shapeshifters. Once she gets over her shock, she finds Carlos even sexier. She knows he returns her interest. So what's the problem?
Carlos explains that he is leaving to track down a rumor of a were-panther sighting in Thailand. He tells Caitlyn that he's going there in search of a mate. Carlos says that there can never be anything between them, but Caitlyn won't listen. She talks Carlos' boss into letting her go on the expedition. She figures a few nights alone in the steamy jungle and she will have him eating out of her hand. Little does she know what's waiting for them in that jungle.
This is another fun, sexy book in a series of great books. It can be read alone, but why deny yourself the pleasure of the other ones?
Sheila Griffin
...
...
Kerrelyn Sparks
Avon Mass Market
978-0061667855
**** +
Officer Lara Boucher hopes to make detective. So when she and her partner respond to a call where they find two sex dolls, blood all over the floor and a severely bloody man at the scene, Lara wants to make sure they take care of the situation. However, Jack, the only fully conscious man at the scene, insists that no one is hurt and uses mind control to escape discovery. He can't control Lara (which is very unusual), so she eventually leaves. A traumatic brain injury has left her paranoid about the state of her mental faculties, so she can't let the case go, even though she can't report it to her superiors because no one else remembers it. She uses her powers of detection to find Jack again.
Jack, or Giacomo, is a two-hundred-year-old vampire and the son of the legendary Casanova. When he sees Lara he's enthralled, but he greatly fears telling her that he's a vampire, because he's lost those he has told before. And because he can't control her mind, he can't keep her from telling others. Yet he cannot keep away from her, and does his best to protect her. When they stumble upon evidence of a serial kidnapper, it's obvious to Jack that the guilty party is a vampire. He must protect the woman he loves from something more dangerous than she could ever imagine.
Kerrelyn Sparks' latest takes another of her wonderful vampires and gives him a perfect match. The mystery is well-crafted, her hero is a joy on the page and her heroine is empathetic and compelling. The fun and intriguing secondary characters enhance this top-notch tale.
Heather Nordahl Files
Click on the titles to purchase from Amazon.
...6 ...