Tessa Dare ~~ 4 1/2 and 5 Star Reviews
When a Scot Ties the Knot
Tessa Dare
Avon
Mass Market
978 0062349026
****1/2


When Maddie Gracechurch was sixteen, her terror of social situations caused her to invent a suitor. She wrote letters to her imaginary love, Captain Logan MacKenzie, for many years, until she created for him a fictitious death. Now, nine years after her first letter, Logan turns up at Castle Lannair, very real and very much expecting her to marry him!
Logan has finally found the girl who sent him years of fanciful letters... and he intends to take advantage of her as much as he can. He wants her castle for his men who no longer have homes or families and need a place to belong. If he can get that from a spoiled English girl, marriage will be worth it. But she doesn't match his expectations from the moment they meet.
Tessa Dare's latest "Castles Ever After" tale is pure enchantment from the first page. The characters charm and delight, including Logan's men and Maddie's aunt. Maddie is a complex and unusual heroine whose art and the lobsters she's observing help to make her a true nonpareil.
Heather Nordahl Files
Say Yes to the Marquess: Castles Ever After
Tessa Dare
Avon
Mass Market
978‑0062240200
****1/2
Clio Whitmore has been engaged to Lord Piers Brandon for eight years, but he is a diplomat who has been out of the country for most of this time and has neglected her in the meantime. She is tired of waiting for her fiancé to come up to scratch, so she has her solicitors draw up papers to end the engagement. She cannot obtain his signature, but Rafe Brandon, his brother, has the power to sign in Piers' place.
Rafe refuses to sign the papers. He has always had feelings for Clio but feels unworthy of her, as he is a prize fighter and, therefore, not accepted in society. In his opinion, Piers would be a better husband. So Rafe comes to her recently inherited castle to convince her to go forward with the marriage. Along with his trainer, who pretends to be a wedding planner, he works to change her mind, all the while contending with her excessively class conscious sister Daphne and her unique sister Phoebe. Instead he falls prey to his own desires.
Tessa Dare continues her "Castles Ever After" with this refreshing and delectable tale. While compassionately portraying unusual characters with social challenges--Phoebe is a particular delight‑‑she crafts an exciting tale that will keep reader interest throughout.
Heather Nordahl Files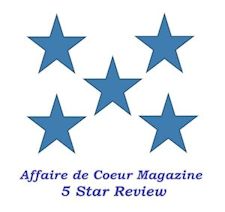 Romancing the Duke
Tessa Dare
Avon Mass Market
978‑0062240194
*****
Izzy Goodnight is seen as an innocent heroine by the legions of fans who read her father's immensely popular series of fantasy tales. Unfortunately, he was better at writing than he was at taking care of his daughter, as he left her utterly destitute when he died. Now she has been left a bequest so she takes what few possessions she has left and journeys to Gostley Castle in Northumberland to settle her mysterious inheritance.
When she arrives, she learns that her bequest is the castle itself, and the current resident is less than thrilled with her presence. Ransom Vane, the Duke of Rothbury, has been out of Society's eye since he was blinded not long ago. He certainly never approved the sale of his castle, so this interloper must go. Unfortunately, he finds her utterly beguiling and can't throw her out. Together, they might just save each other.
Tessa Dare launches a new series, "Castles Ever After," with this tale that shines as brilliantly as the finest diamond. Her characters do have a slight fairytale quality to them, but they are exquisitely detailed. Ransom is a tortured hero inclined to lash out, but readers will understand why he can be so cruel, and his growing love for Izzy is a joy to behold.
Heather Nordahl Files
A Lady By Midnight

Tessa Dare
AvonMass Market
978-0062049896

*****
Kate Taylor has long been left with the burden of being unwanted.
As a child she was left at a school for orphans, where she stayed until
adulthood. Now she has found a community of sorts in Spindle Cove, but she still yearns to find a family to belong to. She asks one of her
former teachers for help but is painfully rejected. Now she's stuck out
of town with no money to get home.

Then Corporal Thorne comes to her rescue. He has always been harsh and abrupt, but now Kate is beginning to see something more to him. The truth would shock her. From the day he came to town he has desired her with an intense fervor, but he knows he's not good enough
for her. He also knows the secrets of her past, secrets that could shatter her life. But then an eccentric family of aristocrats comes to town,
claiming she may be a long lost relative. To protect Kate from their dubious intentions, he claims to be Kate's fiancé.

Tessa Dare's latest "Spindle Cove" tale is sometimes glorious, sometimes agonizing and always wonderful. Her hero and heroine deserve nothing but happiness, and it's a pleasure to watch Kate work to have Thorne believe that he deserves it with her.
Heather Nordahl Files
Tessa Dare
Avon
Mass Market
978‑0062049872
****1/2
Minerva Highwood has always known that her delicate older sister is destined to make a good marriage, and she knows that Colin Sandhurst, Lord Payne, will not be a good husband to anyone. Minerva has dreams of her own but cannot get to the Royal Geological Symposium in Edinburgh by herself. She has a plan to get what she wants and protect her sister at the same time. She goes to Colin's home one night with a wild request--if he can accompany her to Edinburgh, the five-hundred pound prize (which she is sure she will win) will be his.
Colin wants nothing to do with this crazy idea. After all, Minerva has every intention of being ruined because she does not want marriage. He could certainly use the money, but calamity tends to follow his decisions, and he does not want to visit that calamity upon Minerva. Still, somehow he finds himself on the road with an innocent miss, and his odd travel requirements--and his unnecessarily glib tongue--make for a complicated and exciting journey indeed.
This is the second book of a series. No prior reading is necessary, but the snappy dialogue and irresistible characters will lead readers to seek out not just the first title, but all of Tessa Dare's work. Colin is the best kind of maddening hero, and Minerva is his ideal match.
Heather Nordahl Files
Click on the titles to purchase from Amazon.
...59 ...