Welcome to Ester Lopez's Page
Ester Lopez~~Author of Sci-Fi, Paranormal Romance
Ester Lopez has been writing since she first learned how. She's fascinated with the tools of the trade. She'd learned calligraphy in grade school because her first pen was a fountain pen. She liked the feel of the pen's ink flowing against the paper as it formed words. Ester writes sci-fi/paranormal adventure romance writer and screenwriter.
Romance writer, Bailey Jackson's dream began before she was widowed. Married to a verbally abusive man for over 26 years, her dream kept her hopes alive of a second chance at love. After her husband's death, Bailey goes to Ireland to research her latest book and to see if her dream lover actually exists. Can Bailey become the woman she was meant to be? Will she get a second chance at love?

Michael Shaunessy, an architect and widower, lost his wife to cancer two years ago. His best friend and guardian angel, Kalen, alerts him to a lonely soul who cries out in desperation for angelic help. When he hears her plea, he feels her pain and inserts himself into her dreams. Can his dream become a reality? Is he willing to risk his heart on another human, just to find her love for him is not what he hoped for?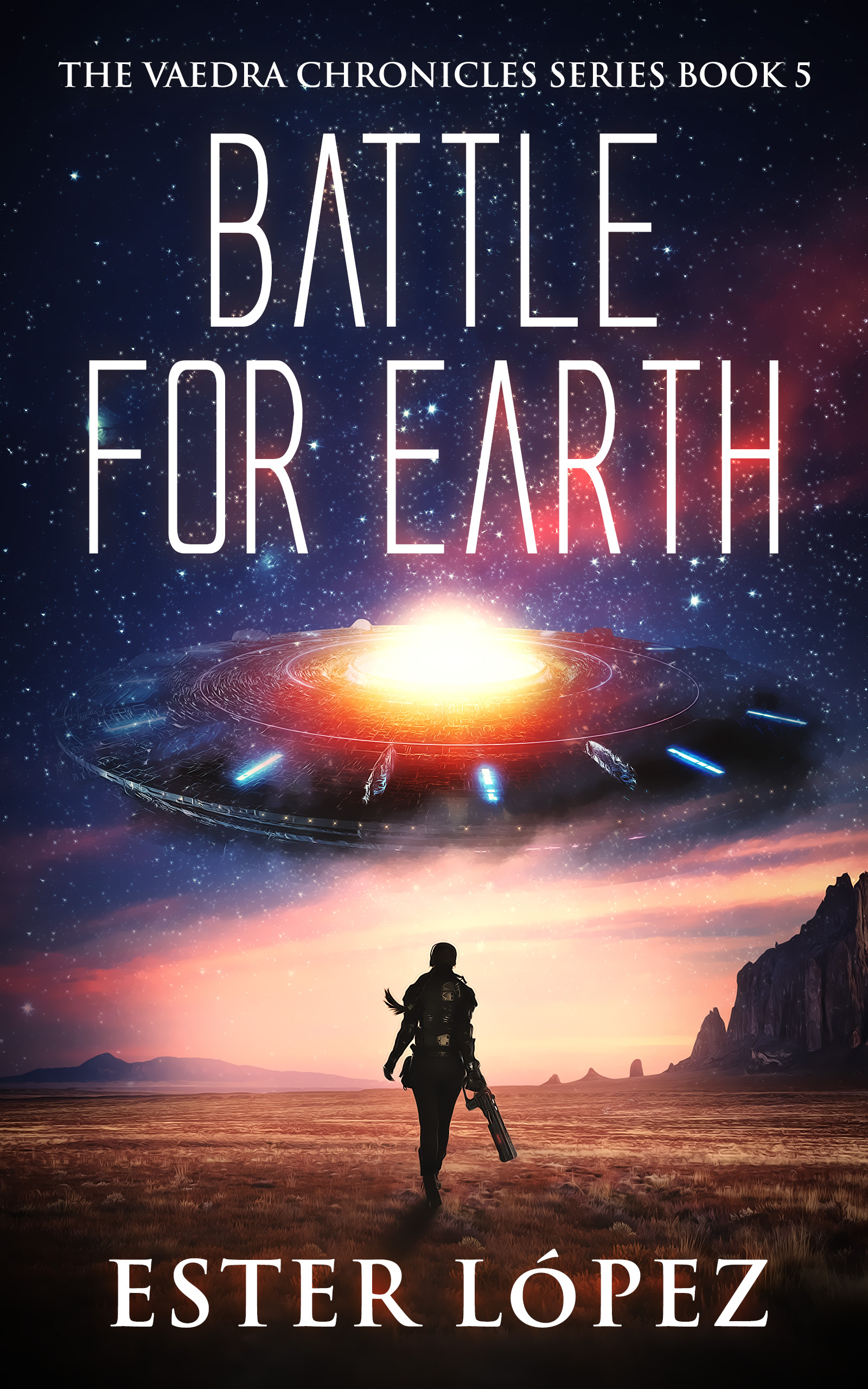 Willow Tree Moon's investigation of a child abduction snowballs into many abductions and missing children from the town of Mercy. The local mayor is becoming an interesting suspect. In an out of body experience, Willow Tree gets all the evidence she needs to put the mayor away if she can make it out alive.

Eno ni Esrith, a lieutenant in the Vaedran Star Force takes down a grey's ship but suffers damage to his own ship. He helps a local police officer rescue two little girls and soon discovers a different kind of war going on planet-side and decides to help Willow Tree in her search for other missing children. Will he be able to rescue Willow Tree from the reptilian's revenge?
Purchase on Amazon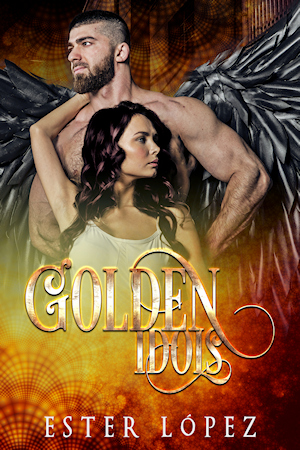 A detective and her angel partner search for a killer. Can they find him before he kills again, or will they die trying?
Tanner keyed the mic on the radio. "This is Unit 19, we have a robbery in progress and need a backup on the corner of S.W. 8th street and 37th Ave." He slipped the radio into the holder on his belt, and checked his gun.
"You ready?" she asked. She checked her gun as well, then slipped it back into her hip holster. The bulkiness of her bullet-proof vest under her t-shirt made it uncomfortable to wear a shoulder holster.
"Yeah, let's go!"
She bolted out the door of the small office and took the stairs two at a time. Her heart pounded. She could feel the adrenaline pump through her veins. Tanner was behind her.
Quietly, she slipped out the front door of the drug store and used her '67, candy apple red mustang parked out front for coverage. She pulled her Glock out of her holster and wrapped her free hand around her other hand for support. She brought the gun to rest on the side of the trunk. Tanner was beside her, peering through the car window to the store across the street.
"You take the first guy, I'll take the second," she said.
Seconds later, the two suspects emerged from the jewelry store.
"Freeze! Police!" she yelled. She stepped out from behind the car, her gun pointed at the chest of the second perp. The first perp dropped the duffle bag he held and ran down the street. Tanner was after him.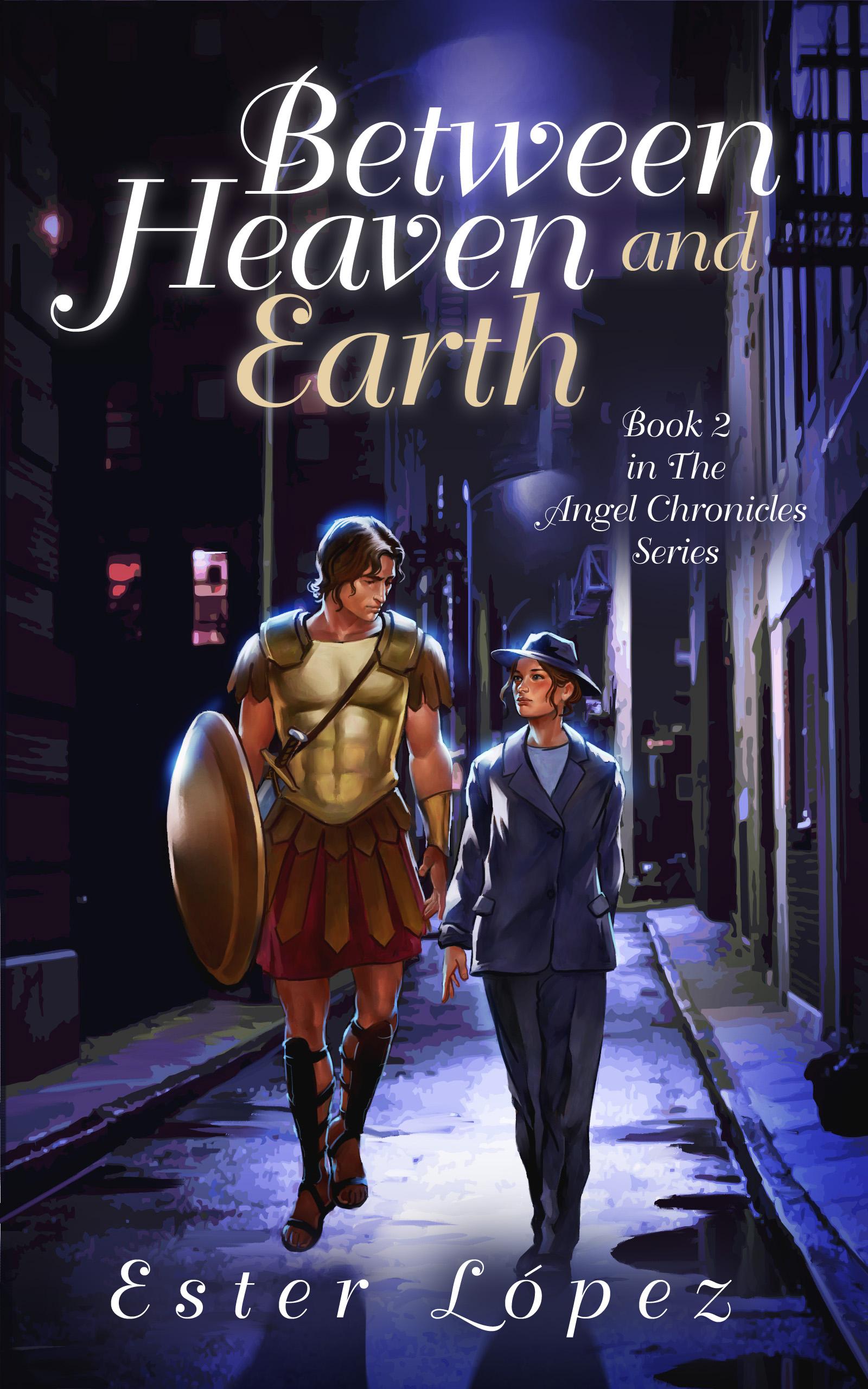 Between Heaven and Earth
A Guardian Angel and a nursing school dropout must learn who is
behind the murders of two homeless men before she becomes victim
number three.
Mike has been Maria Rojas' Guardian Angel for twenty-two years. The day
he rescues her from two criminals, he discovers his human past.
Fighting evil spirits and keeping Maria safe are no longer his only
priorities. Now he must find out who is trying to kill her and how he
died while fighting temptations of the flesh, forcing him to choose
Between Heaven and Earth.
Maria Rojas, a nursing student, drops out of college the day she buries
her mother. Being locked out of her apartment forces her to live on the
streets of Pensacola. But the streets become dangerous after she
witnesses a murder and realizes someone is trying to kill her as well.
Her only hope is her Guardian Angel.

Purchase Between Heaven and Earth
When she got to the big guy, her heart skipped another beat. He was incredibly handsome, with dark brownish-black hair and brown eyes.
Penetrating eyes that wouldn't leave her. He, too, went commando. That was odd for someone wearing white. While she came up the other side, (she patted him down) he whispered in her ear.
"If this is a search for weapons, you're not doing it correctly."
The sound of his voice sent a wave of emotions through her. "I'm not doing it correctly? So, you have experience in searching people?"
"Yes, I do, and you're not doing it correctly."
"Do you have contraband we should know about?" she asked.
"I don't know what you mean by that?"
"Contraband. Illegal stuff?" She put her hands on her hips.
His stare became intense. "We are here on a diplomatic mission from Vaedra."
She pulled her service revolver out and pointed it at the tall man.
"Move it, big guy.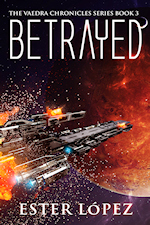 Betrayed
Ester Lopez
Writing and Photographic Services
E-book
ASIN: B07NRN5XT2
4.5 stars
Keely McGuire is comfortable as an FBI agent in her post in the White house, her boyfriend, David is a reporter and treats her nice but she realizes how little she actually knows about him. Meanwhile deep in space at the Vaedra System a decision has been made by the Vaedra System Council of Nations and Interplanetary Space Patrol (ISP) to go to Earth to introduce themselves and start trade. Lieutenant Tremol and company is convinced that they should bring the representatives in a space battleship. Adam Davis of Earth ancestry in the group has hunches that always come true and this was no exception as they meet an adversary when arriving into Solar system.
Keely meets with her parents and they ask many questions about aliens and UFOs She decides to do research for them to get to the bottom of their anxious feelings about the matter. Keely's eyes are opened while back on the job in DC when a cloaked spaceship lands on the lawn of the Whitehouse, opens the door and the emissaries come to meet the president for trade talks. They also ask what has become of another ship they sent to Nasa in Florida. Their concerns deepen immensely when finding the president has no knowledge of the incident. The presidents concerns also deepen immensely when his research finds a hidden military within his own country.
Keely assists with the visitors and now has to deal with realization that aliens are real and her parents may really have been abducted. She is betrayed by her boyfriend David who leaks a press report he had no rights to, Keely loses her job. On the Battle cruiser, Admiral Esrith has had enough and has given earth 24 hours to produce the missing crew or the earth will be destroyed. It is discovered another alien race has been at work for some time getting earth ready for conquest. The other race, the grays as they are called are telepathic, it will be difficult to deal with them in the while Keely finds love with one of the visitors.
The story keeps a good pace while alternating between converging stories in the beginning. The science fiction does not stray into fantasy and the interest is kept satisfied throughout. It is a stand-alone story with characters and situations stemming from her other works. Ester Lopez stories go from great to greater
Lauren Calder
Purchase Betrayed by Ester Lopez
Living a life of crime to support myself and my baby sister, I took the chance to turn my life around by working for the Interplanetary Space Patrol.
I kept my dark secret and hid my telekinetic powers to fit in. Every thing seemed to be working fine until Shey re-entered my life. I fell in love with her the moment I saw her, but when I discovered she wanted revenge for her brother's death, it turns out she's not the only one who wants me dead.
When sabotage and murder shake up the tiny Meta Base Station of the I.S.P., it compromises the mission and changes everything.
Ester Lopez
Writing & Photographic Services, LLC
E-book
B073TN297Q
****
Berto and his baby sister live a cave on the planet Tarsius; going to the academy while waiting a chance for a better life, he gets a job through his headmaster to learn how to repair various spaceships. Both orphaned Berto must juggle caring for his sister Mariposa who going to school and will be alone at home until his work can let them be together.
Coming home from work he came upon his sister about to be raped by three young men, enraged, his mind produces physic energy and dispatches two of the boys as the third runs away. He vows to never leave his sister again.
Fourteen years later Berto's promise could not go as planned, Berto, forced into being a slave trader must now make amends as a recruit to fight against the slave traders.
He meets Shey a young instructor who catches his emotions. He doesn't know Shey is seeking vigilante justice not knowing Berto was the one who killed her brother. They grow fond of each other, due to a lot of bad blood and prejudice they keep the relationship hidden, It is also forbidden to have a relationship with his kind and Shey is also a superior as well.
He is eventually cleared of sabotage of equipment and rocket ships when it becomes apparent to the commander of the base that Berto has skills beneficial to hinder the damage along with his dedication to the cause.
The recruit's train hard, the friction never seems to stop because they know Berto was a slave trader. Berto's psychic power is put to work in his defense in the middle of training when a confrontation goes too far. None the wiser he continues on to be a leader.
The story has a steady pace following Berto, he has a lot stacked against him that only his hard learned experience and untested psychic abilities can pull him through. Saboteurs, love and personal drive give this story the momentum to get to the exciting end.
Lauren Calder
Purchase Revenge
On a lawless moon of Plexus, a resourceful loner struggles to escape his alien, slave-trading father with the help of a beautiful bounty hunter who he realizes is worth more than his ticket back to Earth.
Dram, a business man and slave-trader from Chroma, is thinking of making a career change. Too many close calls has necessitated this change, but he just got a brilliant idea...
Genesis, a princess from Atria working as a Bounty Hunter for the Interplanetary Space Patrol, has hunted the slave-trader, Dram, for ten long years. When she finally catches the man who abducted all the women of her village, she realizes she's got the wrong person.
Adam Davis, born and raised in East Tennessee, has a strange premonition that turns into a nightmare. What could be worse than being abducted by aliens and mistaken for a criminal? Discovering the criminal is his alien father and falling in love with the Bounty Hunter who wants him dead.
Purchase The Abduction
...92 ...