Welcome to Pam Binder's Page
Time is an illusion and love the only reality.
Pam Binder and her husband of 30+ years are the parents of three grown children. Like their parents, the Binder offspring are athletic and academically gifted – and blessed that mom and dad have been active in their children's school systems. Pam recently resigned from the post as office manager for Chinook Middle School to write full time. When not writing, she enjoys snow skiing, reading and hiking.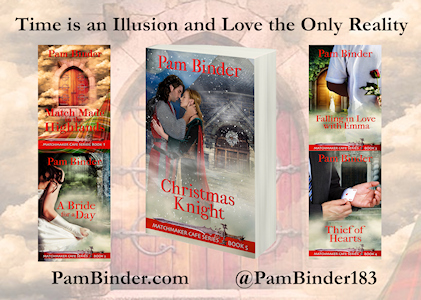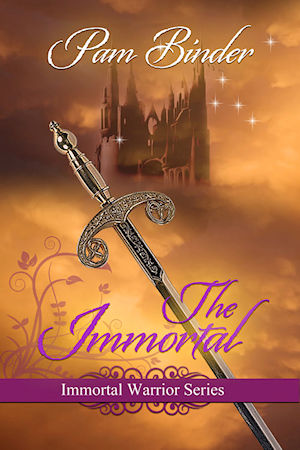 William MacAlpin fights fires as a smoke jumper in rugged Montana backcountry. This reckless endeavor masks an even more dangerous calling—hefs from a dying breed sworn to protect the earth. When he learns a ruthless killer has escaped into sixteenth-century England determined to change history, he vows to bring the renegade back, dead or alive. Isabel de Pinze, gifted painter and a servant in Queen Maryfs court, knows nothing of the battle between good and evil. She knows only that the man she sees ambushed along the Thames River needs her help, and his stolen kiss stirs her deepest desires. But the killer William hunts is linked to Isabelcthe woman he has fallen in love with, the one person who can ruin everything.
Purchase The Immortal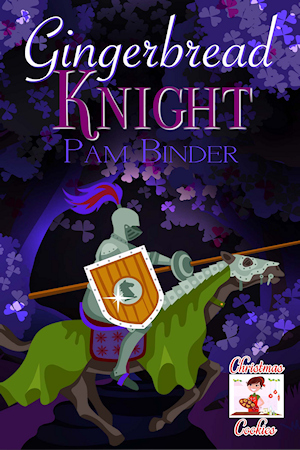 Graham, a mysterious, enchanted knight, is skilled at finding lost things. His latest assignment is to find a woman and her cookbook—if he wants to win his mother's freedom. Devon did not intend to visit medieval times. She simply opened her grandmother's cookbook. Now she desperately wants to get back to her own time and doesn't know how. But she is still a woman who will stand up to the bully in the kitchens to protect the weak and helpless. When Graham falls in love with this courageous, cheerful woman from the future, he knows he must find another way to free his mother. Turning Devon over to an uncertain fate makes as much sense as gingerbread cookies without the ginger. Together they devise a dangerous plan, knowing failure means they will never see each other again.
Purchase Gingerbread Knight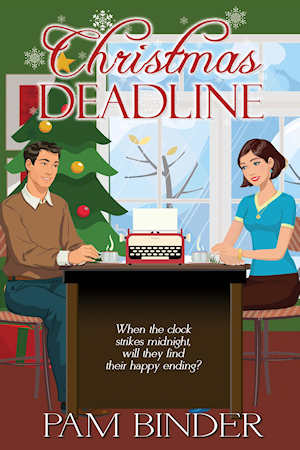 If Holly Lane can't finish her romance novel by Christmas, she must return the advance she spent to pay off her parents' mortgage. Reluctantly she agrees to collaborate with English mystery author Noel Atterberry to finish the book. Working together in Noel's English manor, they feel the same heat of attraction as their fictional hero and heroine. But for Noel romance means heartbreak. With Holly, and in the novel they are co-writing together, he rejects a happy ending and demands their characters die in a fiery car crash. Will Holly and Noel manage to write a happily-ever-after for their fictional couple—and themselves—by their Christmas deadline?
Purchase Christmas Deadline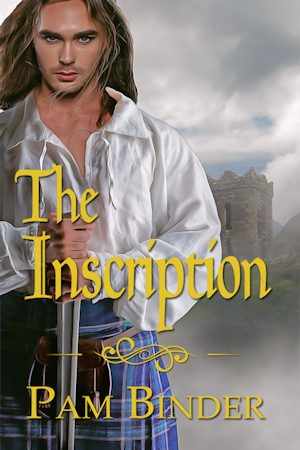 Time is an illusion and love the only reality.
On her way to a reenactment of a medieval festival in Scotland, Amber McPhee loses control of her car. She plunges into the waters of Loch Ness and back through centuries to the arms of a handsome Highlander.
The immortal warrior Lachlan MacAlpin rescues a mysterious woman from Loch Ness, believing she is the one who haunts his dreams, the one foretold to release him from the bloodlust that threatens to consume him. He takes her under his protection, but falling in love with her is not part of his plan, since the prophecy predicts she will leave him as suddenly as she appeared.
Their eternal bond shatters the barriers of time, but how can they triumph over a deadly foe bent on destroying their love and everything Lachlan holds dear?
Pam Binder
The Wild Rose Press, Inc.
978- 1509228751
4 stars
Set in 1566 and present-day Highlands of Scotland, The Inscription expressively explores the themes of history, family, honor, loyalty, sacrifice, sexism, magic, time-travel, death, immortality, and soulmates, as well as the dangers of hatred, violence, and killing without restraint for their own sakes. Immortal warrior Lachlan MacAlpin struggles with controlling his growing blood lust that is triggered by the heat of battle. His kind, when given the gift of immortality can unfortunately become cursed with madness. Lachlan's curse, like his father, is to be consumed with killing and blind to all else whenever he picks up a weapon, and he can feel the madness growing stronger. He tries not to let himself start to hope after rescuing Amber McPhee from drowning in Loch Ness. She's been in his dreams nightly and might be his salvation. Can he open his heart to her, accepting the power of love before the full moon as the legend foretells? Amber's on her way to a medieval reenactment when her car crashes into the water. She awakes in the past, believing she is among reenactors, only to discover she has time-traveled into the past. To keep her safe, they agree to a Betrothal, in name only.
Amber's brave, opinionated, empathetic, kind, and fiercely protective of the vulnerable – always prepared to fight for what she believes is right. As the clan accepts her as one of their own, she changes them, Lachlan's family, and herself for the better – Lachlan most of all. Strong, loyal, responsible, and a fierce warrior, Lachlan's a proud Clan leader. Guilt and assumed responsibility for his enemy's abuse and murder of his family members haunts him, hardening his heart and drawing him away from his surviving siblings and life. Lachlan has lived protecting his people, balanced with the burdens of avenging his family, fighting the curse, and dealing with his overwhelming guilt and anger. Being around Amber brings him back to life and shows there is more to him than the cold, fearless, clansman and warrior. Amber avoids getting too close to people, becoming involved in their lives, and has no time for relationships. Being trapped in the past with Lachlan, his siblings, and the rest of his clan helps Amber to finally see that all her aunt's matchmaking attempts were only to help her live her life more fully by letting down the wall around her heart. Observing his interactions with his siblings and his clan, Amber begins to see Lachlan's heart for his family and people and the warmth that is buried under the weight of his duty and curse. From each other, they learn they don't have to fear emotions – love.
The characters, their relationships, interactions, and the story are well developed with precise and descriptive prose. Filled with intriguing characters, primary and secondary, "the Inscription" world still has a wealth of stories still to be explored and characters in whom readers become invested in discovering more about and seeing what adventures and experiences lie ahead. For the most part, "the Inscription" is creative and original, however, it does call to mind other stories like the "Highlander" movie/TV series and the "Outlander" books/TV series, which isn't necessarily a bad thing for fans who love them. While the novel's pacing and tone are mostly effective, the chapters end abruptly leaving action/subjects unresolved, picking up with different scenes, which is a disorienting. Also, more of the novel is spent talking about the antagonist than is spent in conflict with him. Nevertheless, readers who enjoy time-travel, fantasy, and romances set in the Highlands should enjoy Inscription, which is an emotional, sweet romance with just the right mix of humor, angst, and a bit of action.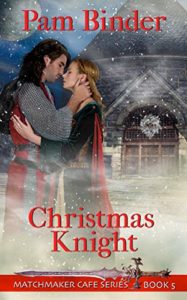 Christmas Knight (Matchmaker Café Series Book #5)
Pam Binder
The Wild Rose Press, Inc.
Mass Market
978-1-5092-2799-0
5 Stars
Modern day divorce lawyer Madeline Murphy has given up on romance. Needing a date to her mother's Christmas Eve wedding, she agrees to have one of the matchmakers from the Matchmaker Café set her up. Never did she dream that a simple wedding date would turn into an adventure of a lifetime…and a love affair that breaks all the rules…and maybe, just maybe, a powerful curse…
Fifteenth-century knight Sir Colin Edward Penrose is the last of the Penrose heirs. The family being cursed by the powerful wizard Merlin to have the wife of any Penrose die after giving birth, has Colin willing to give up his inheritance rather than pass the curse onto his bride. But when he meets a matchmaker who says that she has found a way to break Merlin's Curse by finding Colin a bride out of time, Colin takes a leap of faith and prays this time, the matchmaker is correct.
Colin and Madeline begin their once upon a time on a quest to find the fabled King Arthur sword, Excalibur, and prove once and for all that their love out of time will defeat Merlin's Curse, and allow for a Penrose heir and his love to live happily ever after…
Ever read a book and at the end immediately start reading it over? I did that with the Christmas Knight. Usually, I'm not a fan of entering into a series without reading them in order. Not the case here. Pam Binder did a wonderful job of making the reader feel as if this was the 1st rather than the 5th installment to her Matchmaker Café series. If you are looking for a holiday read or just a heartwarming sweet romance, I highly recommend you pick up a copy and prepare to fall in love! Honestly wish I could give more than 5 stars!
Sharing what I love,
Veronica
Grace Logan and the Goblin Bones
Pam Binder
Wild Rose Press
E-book
B07J489ZZP
****
Grace Logan, a ship captain's daughter received a special ring. She finds that when worn, reveals the once thought mythical creatures and other personalities are in fact real. Her father and his ship are missing, finding he was captured, she is prompted to find and save him from the very things the ring proves to be a reality.
Grace begins the quest to rescue her father and takes on companions, the ring reveals their magical natures as they begin their travels and immediately myths reveal themselves one after another. She learns to take them as a natural part of life and they continue to find the clues and obstructions along the way.
The second part of the quest entails finding a book called the Book of Invasions. A supposed close friend has taken the book and run away. The book has the answers to complete the quest and it now seen imperative that it does not fall into the wrong hands because it is not just her father who is in peril but the whole world.
The companions meet and pass many magical personalities along the way, a dragon, ghouls, a banshee, many more, all shape this story into an adventure that holds the focus of the reader despite the continuous addition of characters that they pass along the way.
The companions acquire a small ship to get to the location of Grace's father. She always thought she would make a good pirate and does well to command her small ship. She is put to the test when she begins battle with the ship made of the mythical goblin bones.
Pam Binder weaves a tale with Irish and Scottish myths that will please all her readers.
Lauren Calder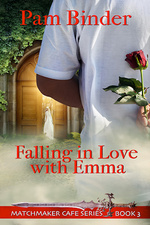 Ever since the sudden death of her mother left Emma in charge of caring for her grandmother and the family's French bakery, she has survived by rejecting change. The last thing she wants is an ex-boyfriend with commitment issues. But while making a delivery to the matchmaker sisters' cafe, Emma opens a door and is transported to eighteenth-century Paris, on the eve of the French revolution.
Bjorn has made a mess of things. He returned from fishing in Alaska believing his relationship with Emma would go back to the way things were, only to have Emma smash a pie in his face. But when Bjorn learns she is in danger, he leaps at the chance to save the woman he loves, even if she wants nothing to do with him.
A Bride for a Day
Worst New Year's resolution… ever. Of course, Cinderella Charming, C.C. to the world, had heard of "marriages of convenience." After all, her parents had named her and her siblings after fairytale characters, even though she resembled one of Cinderella's cute mice friends rather than a princess. She was also an avid romance reader. But when her boss, the insanely handsome star quarterback and playboy Michael Campbell, proposed the fake marriage plan, her rational self screamed its objections. True, she'd be given a generous bonus when the marriage was annulled, so she could open her own restaurant. True, the fake marriage would help improve Michael's image. True, she was in Scotland, one of her favorite places of all time. But C.C.'s main objection, and this was a big one, was that she feared she'd already fallen in love with Michael, and they would be spending New Year's Eve together… alone
Match Made in the Highlands
In the Scottish Highlands, and with the last lines of the movie Brigadoon fresh in her mind, Irene Redmond signs up for a tour, hoping to uncover secrets hinted at in her mother's diary. Instead, Irene is transported back in time to the thirteenth century, along with the rest of the tour group. Logan Mackinnon, confirmed bachelor, has put his life on hold to help his father care for his mother and honor her dying wish to tour Stirling Castle. Sparks fly when Logan and Irene meet, but their budding romance is tested when they learn the conditions needed for their return to the twenty-first century. Like Brigadoon, the castle is enchanted, and only a marriage between two people who truly love each other will break the spell— and vows must be said before midnight. Irene expected to unravel family secrets; instead she meets a fellow tour guest whose kisses awaken long-ago dreams of happily-ever-after. But are their feelings strong enough to break the castle's enchantment?
Warrior Unleashed
The strength of love…
Native American warrior and shapeshifter, Max'inux, prefers his killer whale image to his human image. When he shifts into his human image the darkness and need for revenge grabs hold. With the hope of redemption, he sets out to rescue the son he never knew. But when he hears a telepathic cry for help and then a woman's warning to stay away, he knows he must face his demons on Whale Island. The woman he loves is trapped there: the one place he'd vowed never to return. He suspects that a traitor has infiltrated the Island and joined with human-only to exterminate the doublesight. In a race against time, Max'inux must rescue his son and reach the woman he loves before it is too late. In this sequel to Warrior Rising, Warrior Unleashed is filled with the mysticism and shapeshifting legends of Native American and First Nation totem animals, the depths of love and the realization that we are stronger together than apart.
Warrior Rising
The power of forgiveness…
Native American warrior, Max'inux, is a doublesight who can shift into the image of a human or killer whale. Running from his past, Max'inux is also a solder for hire and has spent most of his life on his own. but when he is captured in his whale image and held prisoner, his world view changes. He learns a hunter and his men have arrived to kill the woman he loves and sell her daughter. Max'inux has three days to help them escape.
Suspenseful, romantic, and thoughtful, Warrior Rising explores the power of forgiveness and the connection we share with killer whales.
The Quest
Scotland, 1328: Conjuring with all of her will. Ana de Dannon summons the greatest champion of the ages, Cuchulainn, the legendary Irish warrior. Only he could defeat Ana's evil half-brother, Roderick, and free her mother, Rhiannon, from Edinburgh Tower.
In a perversely generous gesture – as he knows no man in the land will face him – Roderick has offered to release any prisoner whose champion can defeat him in a tournament.
But the powerful man Ana conjures is not Cuchulainn, though the word Warrior is written on his strange and colorful garment…and his face is hidden beneath a massive helmet. Ana has mistakenly called forth Kenneth MacKinnon, quarterback for the Seattle Warriors, and the greatest champion of his age – the year 2000. But he may be the hero she needs after all, when he learns to do battle for something greater than his own glory – the love of a fair maiden.
The Inscription
An immortal warrior has conquered death.

Now he must conquer living.

When immortal warrior Lachlan MacAlpin rescues a woman from the depths of Loch Ness, he knows she is his one true love foretold by an ancient prophecy. But imagine American Amber McPhee's surprise when she awakens in Urquhart Castle to discover that she has fallen more than four hundred years into the past – and into a love that will shatter the barriers of time.
Emerald City 2000 Keeper Award
Nominee, Romance Readers Anonymous Award for Best Time Travel Romance