Welcome to Sharon's Page
Welcome!
Amazon best-selling author Sharon Buchbinder's broad range of writing includes internationally best-selling textbooks and award-winning novels that tell haunting tales of love, family secrets, forgiveness, extraordinary abilities, truth, justice, and redemption. She believes happily ever afters are born through strengths developed in overcoming adversity in fiction and real life. If you enjoy authors Heather Graham, Christine Feehan, and Nalini Singh, you will probably enjoy Sharon's Western romance ghost stories, woven with supernatural, Native American paranormal suspense elements. Set in small towns in the American West with strong female heroines, sexy male heroes, secret government agencies, undercover agents, shape-shifters, werewolves, weretigers, ghosts, jinnis (genies), telekinesis, teleportation, remote viewing, these stories will make you wonder about those bumps in the night.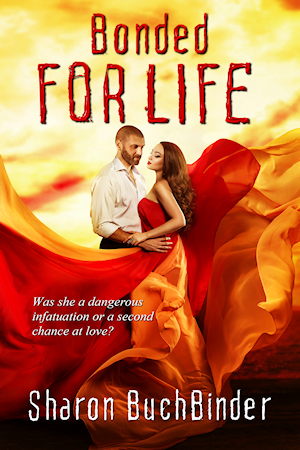 The widow of a Mexican criminal must partner with a highly decorated, by the book American cop to solve a decades old mystery and stop a killer.
Lola Getz and Webster Bond felt an instant spark when they met as high school students in Victory Shores. But their budding romance was cut short when Lola's parents died in a plane crash and she had to return to Mexico. There, she became a famous artist and married a man who turned out to be a fraud. Webster, meanwhile, joined the army, earned medals of honor, and came back to his hometown as a cop.
Years later, Lola's life is in danger when armed men break into her house. She flees to the only place she feels safe: her twenty-fifth high school reunion. Webster is surprised and thrilled to see her again—and vows to keep her safe. But is she his long-lost love or a deadly temptation?
Was she a dangerous infatuation, or a second chance at love?
Purchase Bonded for Life
The Vampire Billionaire's Secret Baby
Sharon Buchbinder
CPC Publishing
E-book
B0BQ2DPNLL
4.5 stars
Meddy Stheno is a home organizer and has been hired by newcomer and admitted vampire, Quinn Ward. His son, Danny, is a dhampir, and wanted by some very dangerous people. Meddy has been sworn to secrecy.
Antoinette, Raven's sister, is determined to find the boy and use him for her nefarious, scientific experiments. In order to help Quinn protect his son, the residents of Cat's Paw Cove joined together for a good old-fashioned supernatural battle.
Fantastic! This story had me in its pages from the very first paragraph. Grab a drink and snacks, because you will not want to be interrupted!
Lauren Calder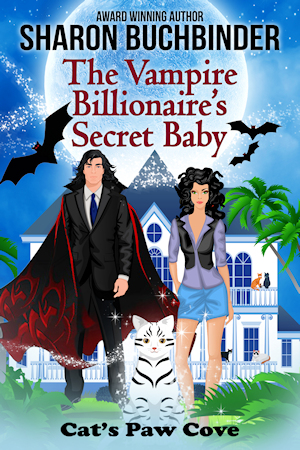 The Vampire Billionaire's Secret Baby
When home organizer and Gorgon, Meddy Stheno, is called in to help a recent arrival to Cat's Paw Cove tidy up his home, she meets a handsome and frustrated father of a precocious three-year old. Meddy is sworn to secrecy to protect this special child. The boy is unable to control his shapeshifting—but he
can
go out in the daylight.
Vampire billionaire and casino owner, Quinn Ward, is on the run from someone who wants to extract his dhampir son's abilities. To protect his child, he must rely on Meddy and the eccentric Supernaturals in Feline Fine Retirement Home. Can he count on them to help overpower the powerful Head of the Vampire House Diablos?
With the fate of his son on the line, Quinn and Meddy must recruit and train a Magical team. Can Quinn overcome his past and let another woman into his life? Will this longshot give them the payout they both need? Or will Meddy and Quinn lose it all in this do or die gamble for love?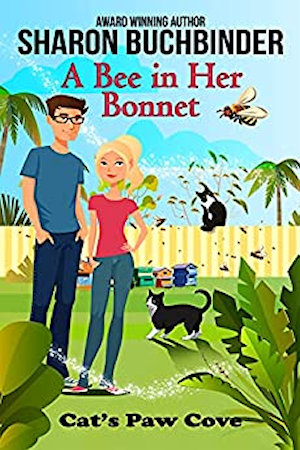 A Bee in Her Bonnet
Not all that buzzes is a bee…
Elva Boyd, an extroverted elf, uses bees and honey to treat patients in pain. Art Klarastos, an introverted demi-god, beekeeper, and inventor is her best friend. When Elva's beehives disappear, Art beelines to her to deliver the news. Distressed, Elva pleads for his assistance with the mystery of the missing boxes. Kit Kat, his matchmaking talking cat, makes a deal with Elva: Art will help her in exchange for a real date.
Art is mortified, but Elva agrees without hesitation. While they attempt to deduce why someone might want to steal her bees' homes, a couple arrives and claims to be Elva's long-lost parents. An orphan raised in Cat's Paw Cove by her aunt and uncle, Elva is ecstatic. Suspicious of these unknown elves, Art shares his concerns—but Elva tunes out his buzzing.
When her parents declare they have come to take her home to Scotland for her contractually obligated wedding, Art is devastated. Will his best friend leave with her newfound family and soon-to-be-husband? Or will he be able to convince her that he is the beekeeper of her heart?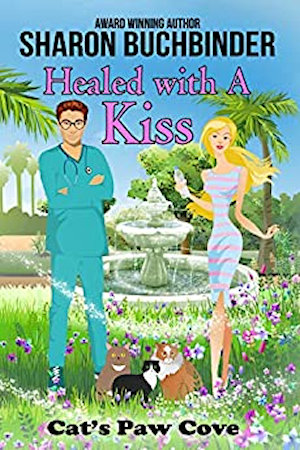 Healed with a Kiss
Brendan Redbird is a man of science and a medical professional. When this very uptight, predictable guy is adopted by a naughty talking cat (Tom) and his two brothers (Dick and Harry), Brendan's life makes an unpredictable turn. Tom smacks a girl on the butt and lets Brendan take the blame. The only problem is the girl Tom smacked is a water nymph, Myrotessa, or Tessa for short. She isn't about to let Brendan off with that ridiculous excuse. Tessa has healing waters and the gift of prophecy—but she did not see that coming. When the magical felines of Cat's Paw Cove begin succumbing to a mysterious malady, Tessa and Brendan are forced to work together to find a cure. Along the way to helping others, they fix the cracks in their hearts—and are healed with a kiss.
Tears of the Wolf
Chief of Tribal Police Jacob Graywolf serves and protects his community on the reservation. When an epidemic of missing and murdered Indigenous women hits home, he's relieved the FBI gets involved. But something about the woman agent has him running scared.
FBI Special Agent Zena Adalwolf is certain Jacob is her soul mate. Their connection at first sight is immediate and urgent—a bond that transcends their professional relationship. If only the clueless hunk would realize they belong together!
After more Native American women are killed, Zena and Jacob suspect they have a serial killer on their hands. To track down the unsub, they allow their inner wolves to come out and play. But with the ever-ticking clock going wild, will the killer find them first?
@SBuchbinder