Welcome to Victoria Saccenti's Page
Award-winning, multi-genre author Victoria Saccenti writes romantic women's fiction, contemporary romance, and paranormal romance. Not one for heart and flower stories, she explores the strengths and weaknesses of the human spirit and the twists and turns of intimate interactions. Impossible, against-all-the-odds love is her preferred trope. Conflicted and flawed characters seeking redemption are her ideal protagonists.
After thirty years of traveling the world, she's settled in Central Florida. She splits her busy schedule between family and her active muse at Essence Publishing. However, if she could convince her husband to sell their home, she would pack up her computer and move to Scotland, a land she adores. On a side note, in one form or another, she mentions Scotland in most of her stories.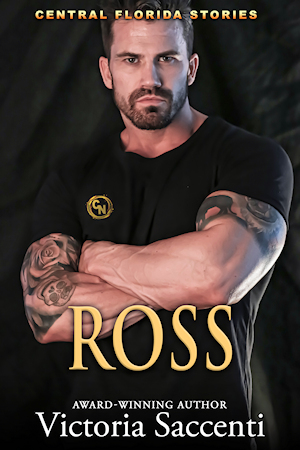 She was never meant to be his. But his heart was always hers.
Ross Michaels hasn't laid eyes on Hadley Keller since the night she took off on the back of his younger brother's motorcycle. Her innocent sweetness had called to him. But she wasn't his. End of story.
But fate can be viciously unpredictable.
He's been working at the members only, Club Nexus, when he receives an unexpected letter from Hadley. Even though four years have passed, she still has such a hold on him that when she writes begging him to rescue her daughter, as they are both trapped in an outlaw MC, he decides to rescue both of them out of that hellhole. It's when he sees her bruises and the helplessness in her youthful face, that the Daddy Dom in him, recognizes from her behavior that she is a Middle and in desperate need of his help and protection.
Only, his mission isn't as simple as loading them into his truck and driving away. Hadley's trauma had set its hooks deep. Ross is determined to remove each one; barb by painful barb. And keep her safe from MC elements that'll do anything to claw her back in.

Note: Ross is a standalone romance in the Central Florida Stories - Club Nexus universe. Contains DDLG dynamics. Visit the author's website for TW.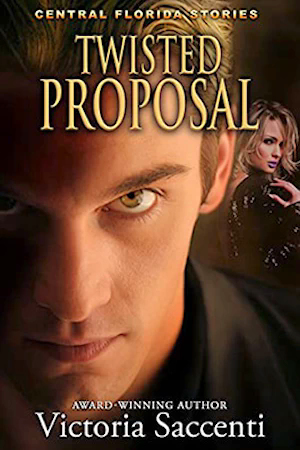 The sweeter the revenge, the more bitter the cost.
Ethan Ashford prefers the private playrooms of his exclusive club to the backstabbing elite society into which he was born. But when his ailing billionaire father asks him to attend a gala dinner, he reluctantly agrees. Only to encounter an eerily familiar face that freezes him in his tracks.
He quickly realizes the woman isn't Joyce, a conniving social climber who almost ruined his family, but her cousin Siena Maynard, a fledgling fashion designer who pings Ethan's Dom radar from across the ballroom. Even better, her uncanny resemblance to Joyce sparks a plan that will satisfy his hunger for revenge—and his craving to have sweet Siena at his mercy.
Phase one: Dig up every detail about Siena, from her dwindling funds to her brother's shady connections. Phase two: Back her into a corner with one way out—to accept him as her sole benefactor in exchange for her total submission.
Ethan fully expected to take diabolical pleasure in Siena's body, tears, and flesh. But he never imagined she'd sink so deeply under his skin, that losing her would destroy what's left of his soul.
Twisted Proposal is a standalone dark romance in the Central Florida Stories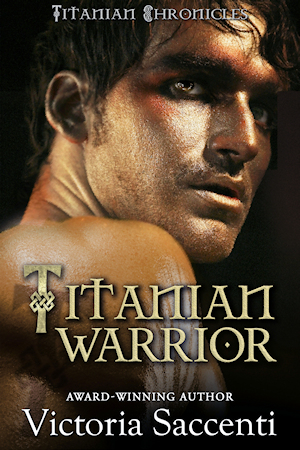 One woman holds the key to his destiny—and his people's salvation.

Hagen drags himself to the gates of Hell, body and soul shredded by the bloodlust that consumes all the unmated of his kind. Awaiting the painful atonement that will buy him ten more years to find his eternal mate—or face oblivion. But Hades himself kicks him out with the bloodlust still prowling, unsatisfied, in his veins.

Bargained away by her parents to Master O, a mysterious and cruel wizard, Faiza serves in his household, keeping her small magic a secret, plagued by wild, confusing visions of a strange suffering male. Then her master brings home a wounded Titanian warrior whose touch sends ice, fire, and desire through her body.

When she learns Master O plans to use Hagen as a weapon to conquer all races, she devises a desperate plan to free him—a plan that opens a portal to a world she's never known. And a destiny entwined with danger that could destroy them all.
4.5 stars
Faiza and her sister, Lilith, were sold to Master O, a wizard. Faiza and Lilith left the rice fields they were working in to get home before the Master arrived. When they reached the SUV the Master exited the vehicle. In the rear, the half-conscious injured man was the same one she'd seen in her earlier vision.
The man felt Faiza's gift and mentally grasped onto her. When Faiza started to treat his wounds, Master O stopped her, declaring that her sister Lilith would be the woman to satisfy any of the wounded man's needs-whether it be physical or emotional and ordered Faiza to be his cook.
Ignoring the Master's orders, Faiza and Lilith administered to his wounds. There was an immediate connection with Faiza, infuriating the Master.
Hagan, son of Firiof and Adalheidis, was proud of his heritage. She had no idea who he was, only that he was a supernatural being. It dawned on Faiza that where they were, what they were doing wasn't a simple strategy. Master O, who couldn't be trusted, had a plan in motion, and she was going to find out what it was.
Chock full of fantasy adventure, if you love mythology, and supernatural romance, this is the book for you.
Kitty Lane
Central Florida Stories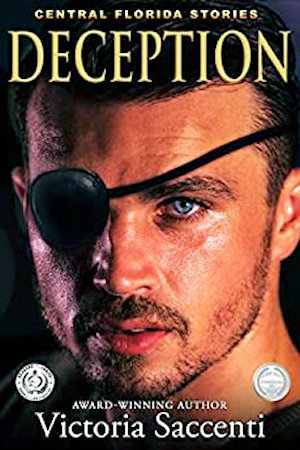 Deception
Her submission is his sweet revenge…until the truth detonates his plans.When Joe learns Hunter's name, his inner Dom's lust turns to black rage—he's convinced it's her fault a teammate committed combat suicide. He embarks on a plan to seduce her, but by the time her sweetness ensnares him, the truth threatens what could be the love of a lifetime.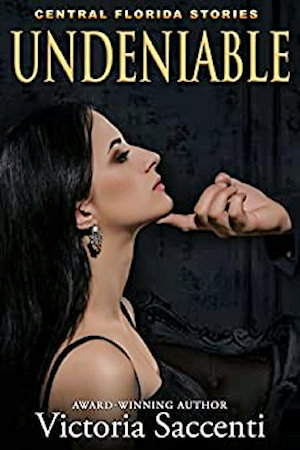 Undeniable
Their hearts will never forget… But the approaching danger may take away their forever.

Possessing vital information that could bring down a crime cartel, Arely Bernal flees to Orlando, taking a job as far under the radar as she can get—bartending at a BDSM club. Where she encounters the man she's never forgotten.
5 Star Review!!
Arely Bernal's dreams had come true in the form of an invitation to the man of her dreams, Kurt Allendorf's, graduation party. He was her older brother's best friend, and she had been in love with him FOREVER! Kurt had always been a gentleman to her, patient when following them around, giving her an encouraging wink every now and then. Little did she know that Kurt had been captivated by her also, for a very long time. But she was his best friend's little sister.
Fast forward 16 years. Kurt has returned home from Afghanistan with a lot of baggage–walking with a cane and suffering nightmares from survivor's guilt. He is also the co-owner of Club Nexus, the exclusive BDSM club in his hometown of Spring Lake, Florida.
Arely has returned from her native Puerto Rico. She now has her dream job teaching second grade in Nashville, Tennessee. Suddenly, as she was leaving school for the weekend, Arely was snatched out of her car by a man wearing a black balaclava who said, "You scream. You're dead." When she wakes up in a cell occupied by other women, she thinks she's been kidnapped as part of a human trafficking ring. Only after overhearing her captors speaking in Spanish, does she learn that she is not part of the trafficking ring, but a "special order" from a member of her own family! After the women are rescued, everyone is sent home. Except Arely. She has no idea whom she can trust in Puerto Rico and has no family left in the United States. But she does have friends and contacts her childhood girlfriend in Spring Lake who immediately takes her in. Determined to get over her ordeal and get her life back on track, Arely starts looking for a job. Her friend Gabby suggests she apply for a job as a bartender at a special club she and her husband belong to. The club specializes in high-end security and vetting everyone who comes through their doors. She would be safe.
Kurt had not done much of anything since returning from deployment. He quit going to physical therapy and is doing nothing to help heal his leg because his survivor's guilt and depression told him he deserved to walk with a limp. Running out of reasons to sit home and do nothing, Kurt finally returns to his duties at the club including sitting in on interviews of applicants for jobs. Imagine his surprise to hear Arely's voice as he entered the room! Just like that, all his teenage fantasies about Nando's little sister came rushing back full force.
Undeniable is not a hard book to read and shouldn't scare off anyone who has no knowledge of BDSM or is curious. Arely's in trouble, through no fault of her own, and finds her only safe place is in the employ and arms of her old crush who just happens to be a Dom (Dominant), but not presently practicing the lifestyle. Ms. Saccenti takes the reader on an emotional, non-scary glimpse into the BDSM world without whips, chains, spankings or anything else that the imaginative mind can come up. It's a chance to see how the real BDSM world works– consensually –and not the way other books and movies portray the lifestyle. An excellent read, especially for the curious of this alternate lifestyle.
The Titanian Series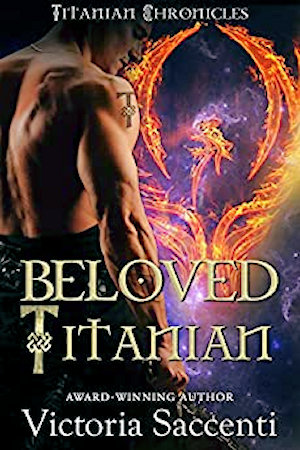 Beloved Titanian
The Titanian Universe unfolds.

He's a riddle I can't solve…until one night rips away the veil.

I always felt there was something peculiar about Roald Trenton, that behind his blindness he saw me better than I saw myself. When a frightening creature, a being out of a horror movie attacks me, a glowing silvery defender comes to my rescue, sweeping me away to safety, reaching inside me, and pulling the poison from my body. Setting fire to my desires, he ignites a connection to a world I knew nothing about…until now.

Bonus content.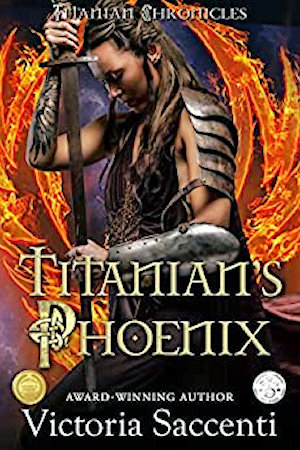 Titanian's Phoenix
She's the mate he never expected. And she has powers she never asked for…

Maya Brown is New York tough. She doesn't believe in magic—until she's kidnapped along with her eccentric godmother, Anna. By elves. Freed by a strange power, and reeling from bizarre revelations about her heritage, Maya follows Anna's plea to seek out a man named Soren at—of all things—a magical bar. Maya doesn't believe in love at first sight, either, but when she encounters seven-plus feet of muscle and mood-changing eyes, her body does a full-on reset. Nothing shakes up Soren Westerberg, Titanian Enforcer assigned to NYC. Until a beautiful human woman with golden skin and lost brown eyes walks into a bar. In one trembling instant he knows that she's his mate—who promptly faints away in his arms. Their bond is instant, gloriously intense, and a miracle. Soren's life scroll never foretold a mate, but now that he has her, he'll protect her at all costs. Because she's not just his—she's also an extraordinary being coming into her power. And ready or not, that makes her a target of his cruelest enemy.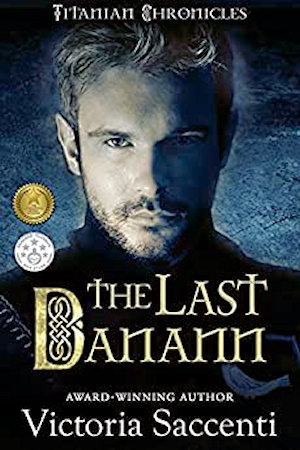 The Last Danann
He struck a devil's bargain to save his people. Now he must risk more to save his love.

In exchange for his people's safe passage into Tir na nÓg, Kailen pledged his sword to the Titanians to defeat the daemon horde. Centuries later, the grief of his losses heavy, Kailen has sworn that while his body is open to carnal pleasures, his heart is closed to love.

Even when it comes to a Druid-trained healer of mysterious origins who serves in the house of Soren, the greatest Titanian warrior. Talaith. This lavender-eyed beauty is his one gentle memory out of centuries drenched in blood.

Not long ago, Talaith willingly lent her powers—such as they are—as Kailen raced to save Soren's life. Otherwise, she fiercely hides the heart she lost long ago to the lonely, taciturn Tuatha Dé Danann warrior.

When Kailen and Talaith join forces to aid the Titanians against a renewed daemon attack, the walls between them crumble in fierce, emotional passion. But when death magic strikes, the price Kailen willingly pays to keep Talaith safe could tear them apart forever.

The Titanian Universe continues...
@VictoriaSAuthor