Welcome to Zoe Dawson's Page
Welcome to Zoe Dawson's Page
Zoe Dawson lives in North Carolina. She discovered romance in her teens and has been spinning stories in her head ever since. Her heroes are sexy males with a disregard for danger and whether reluctant, gung-ho, or caught up in the action, show their hearts of gold.
Her imagination runs wild with romances from sensual to scorching including romantic comedy, new adult, romantic suspense, small town and urban fantasy. Look below to explore the many avenues to her writing. She believes that it's all about the happily ever afters and always will be.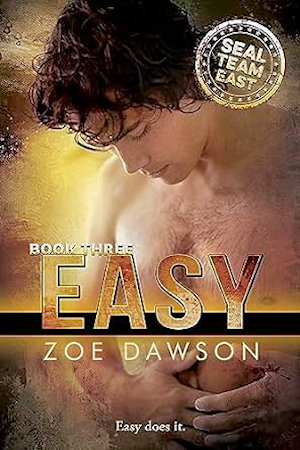 SEAL Team EAST: Easy
The team is tasked with rescuing PAY-TV executive Jacqueline Devers in Caracas when she was sent to by her CEO to close a big deal for the company. She was being held falsely against her will. But when the team go in, Jack and Matthew "Easy" Hitchcock get separated from the team and they have to go on the run across a hostile country until they can be extracted. Jack has been through a terrible, terrifying ordeal, but Easy has to admire her resolve and cool-under-fire attitude. The more time he spends with her, the closer they draw together. Since Easy is the only thing that stands between her and her relentless, brutal captor, he does his best to resist her allure. He's determined to get her out of the country safely.
Jack has been battling for a promotion at her company and her assignment to Venezuela came with many promises of advancement. Her arrest came as a shock and the police who arrested her treated her in the worse way. She repeatedly told them she was an American and she was innocent of any wrongdoing., but they wouldn't listen. Just when she thinks she might die in the hellhole they put her in, men storm into the prison and rescue her. She refuses to leave until they recover something that was stolen from her. The SEAL who broke open her cell, Easy, agrees while their CO demands they get her out. When the police respond, the SEALs are forced to fall back and Jack and Easy escape during the chaos. Now they're being hunted down in a hostile country where her only survival is in the hands of the sexiest man she's ever met.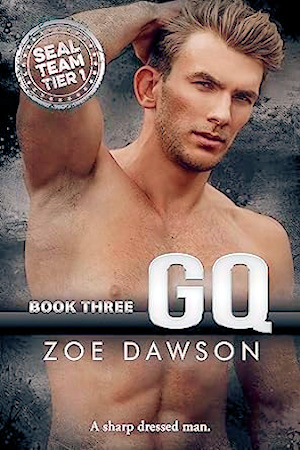 SEAL Team Tier 1: GQ
With the shadowy organization still eluding capture, GQ and the team head to London where the next attacks are expected to occur. The SEALs, CIA and MI6 team up to discover the targets. GQ is still working at handling his mom's death and the information that he has to the possible whereabouts of his father whom he thought was dead. He's not sure he wants to confirm his mother's bitter rantings impugning his dad's character. With his own personal stuff clogging up his head, he's disconcerted to find himself attracted to the reserved, quirky Dr. Celeste Potter, the cryptologist the NSA has sent to break the encryption on the laptop recovered from the NSH goons in Bolivia. GQ never hurts for female companionship, but his partners never seem to measure up to his expectations. He's not sure he should even bother courting more disappointment, but the woman proves to be much more than meets the eye.

Initially, Celeste is horrified and unbalanced when her boss assigns her to work not only in London, away from her comfortable home base and her perfect office, but he expects her to collaborate with people—a lot of people. It's imperative she work alone and only rely on her own personal friend. Then he mentions NSH and everything changes. She does care about what the terrorist group is doing, all those deaths were definitely distressing, but her main interest in them is that they are hidden. There's no information on the mastermind at all. That intrigues her immensely. She agrees to go. But the reality of interacting with so many causes her stress until Petty Officer Remington "GQ" Nash steps in and seems to know exactly what she needs. Men had never been on her radar—they took up too much time, were messy, and had needs she just didn't want to understand. But she couldn't seem to dismiss this particular man, who makes her think too hard and want too much. But she is going to need him when NSH reveals their catastrophic plan that chillingly includes her.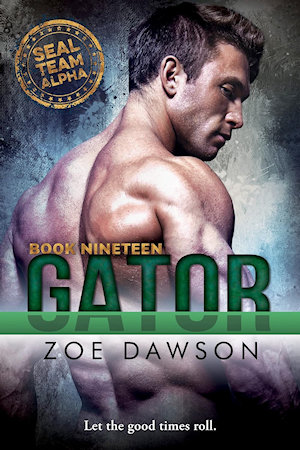 SEAL Team Alpha: Gator
It's quite a blow to the team to lose the ambassador to Niger, especially when they were warned of the threat. But whomever is behind the death, it's not the simple terrorists who take credit for it. Gator suspects it goes much deeper and is all about the presence of the U.S. in West Africa. While the SEALs work with the CIA to secure Niger and the embassy, a replacement ambassador shows up to take over the running of the busy embassy and the staff. Gator is knocked for a loop at the sight of Isabelle Theriot, someone from his past. He can't seem to get her off his mind, and when his creole blood stirs, there's plenty of heat generated.

Isabelle is saddened by the loss of the ambassador, but she's been sent on a mission, and everything regarding that mission is classified. Keeping secrets from Navy SEALs could become problematic and soon gets tense once Gator recognizes her as the woman who had saved him and his teammate. Gator isn't keen on her being in charge and thinks a new ambassador has a target on her back, but he has his orders. She tells him that's why he will be her bodyguard. As they dig deeper, they discover where the threat is coming from and why. It's a world-changing revelation. Can Isabelle and Gator manage to handle not only the secrets she keeps, but the political, emotional and physical aspects of an affair that both of them may want to become permanent…if they survive.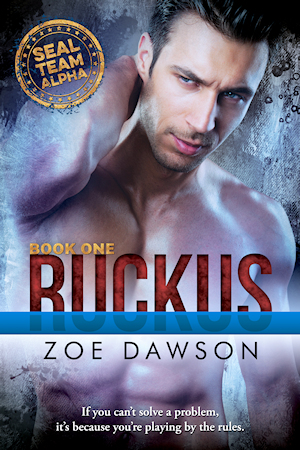 SEAL Team Alpha: Ruckus
For U.S. Navy SEAL, Bowie "Ruckus" Cooper, going on a mission into the most dangerous place on earth wasn't new, neither were the orders to tag and bag an international criminal, but when Bowie finds a captive American reporter, that wasn't exactly run of the mill. Neither was getting separated from his team, teaming up with her or protecting her against all odds, while working to keep his hands from around her neck and off her delectable body.

Fearless and bold photojournalist, Dana Sorenson never backed down from a fight or to showcase her dedication to reporting on the human condition. That's what she thought until she meets Bowie and big, bad, and tough takes on a whole new meaning. Gratitude for saving her ass gets lost in his demanding orders and fighting for her life takes a back seat to falling for this alpha male who'll risk everything to see her safe.
@zoedawsonauthor